The OK boomer trivia game perfectly combines old-school and new-school fun. It's an excellent way for people of different generations to bond and have fun while racking their brains to solve trivia questions.
Parents have confirmed that this game helped improve the family time they spent with their kids. The best part is, you can also play against team members of the same age.
The OK boomer game closes all age gaps as it draws people of different generations together. The thrilling part of this game is that it tests the players have to answer questions that test knowledge of the rival generation's pop culture, history, and other social aspects. Imagine asking a boomer questions about a 2012 cartoon character or asking them the meaning of Gen Z slang words.
Can Millennials Join in the Fun?
It's safe to say that this game could finally help decide which side is truly woke and help end the inter-generation rivalry between boomers, millennials, and the new Gen Z. The new Gen Alpha is yet to join in the war.
Millennials have been considered the 'silent generation for too long. The war is mainly between the baby boomers and the Gen Zs. This game allows them to prove they can also be considered a woke generation.
How Do you Play OK Boomer?
As we mentioned earlier, the OK boomer game is a classic trivia game, so there must be teams to compete. The millennials may be made to pit against baby boomers alongside Gen Zs, but there's no reason they should let themselves be over shined by the Gen Zs.
The OK boomer game is a hilarious party game that can be used to pass the time during family gatherings. However, if there are kids there, it would be best to take out cards that contain vulgar slang or inappropriate pictures.
Now how do you play the OK Boomer?
Each team can consist of as many as 8 members (this is just a formal rule, there can be as many team members as possible). The game has two card decks: Old school and New School. Anyone born before 1980 falls into the old school team, and anyone born after falls into the new school category.
There are more than 600 questions available, so teams can't get lucky enough to win points by answering a trivia question twice. So instead, teams take turns answering questions and accumulate points.
Whichever team accumulates 10 points before the other while following complete instructions wins the trivia game.
The questions will range from topics such as social history to education, to pop culture, and sometimes even politics. This game's inspiration is creating a discussion ground for people of all age grades.
Hopefully, when information is passed around, it will help the old school learn more about the new school and vice versa.
The entire game can last between 15-20 minutes (in-between conversations can prolong the games, no doubt). However, there's hardly a chance that everyone would be satisfied with just one round. But no worries, there are enough trivia questions to go as many rounds as possible.
What is a Boomer in Gaming?
A baby boomer is a person born between 1946 and 1964. Reports from BrooklynNews show that boomers spend one to three hours each week playing games.
However, unlike the younger generation, they are not obsessed with consoles and HDMI cables, VRs, ARs, or XRs. Instead, 53% of boomers would opt for mobile games.
Do boomers play games?
Boomers typically have more time on their hands and play games primarily for relaxation and mental stimulation. Data analysts from NewZoo conducted research, and the findings show that 42% of boomers are gamers, and a substantial amount of this percentage are women.
Reports also show that some boomers prefer single players games that only allow them to play without competition. However, these single-player games do not have as many thrills as hilarious party games like the OK boomer trivia game.
Why do boomers get into gaming?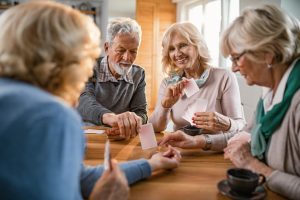 Boomers also get into gaming because their therapists tell them to. Games can stimulate the mind and decrease the impacts of a few problems older people face.
Dementia, depression, and blood pressure fluctuations are some of these problems that older people face. The fun they get from these games positively impacts their mental and physical health.
The OK boomer trivia game is perfect for boomers because it can serve as a form of mental workout. Racking your brains to answer questions about the rival team's pop culture and history is not only fun, but it also improves the state of your mental health.
Your therapist would praise you for engaging in games like this.
The OK boomer trivia game pack can either be purchased online or in-store.
What is the Meaning of OK Boomer?
OK, boomer is a dismissive phrase used to call out boomers who are not open to the actions and opinions of the new school generations.
Who is a Karen?
(Female) Boomers who tend to criticize younger people are usually called Karens, and the younger generations who are criticized are called Kaydens.
What's an OK boomer meme?
The Kaydens these days are making hilarious memes on the internet to mock Boomers who love to criticize them. Unfortunately, these memes are usually offensive to boomers and portray them as obnoxious, small-minded, egotistic, and self-centered.
OK, boomer is the newer version of the 'talk to the hands' catchphrase that went viral in the 90s. You could also equate it to an eye roll followed by a grunt.
You should know that the OK boomer is an offensive term; you should call out anyone who uses this term to disrespect you.
What Started OK Boomer?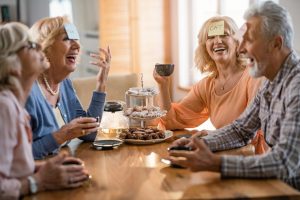 The OK boomer term became a thing after a Gen Z artist, Jonathan Williams, produced an OK boomer song. The song was considered racist and ageist.
However, the artist claimed it was an outcry against the new school's derogation from old-school people. His friend, Peter Kuli, later remixed the song in collaboration with Jedwill.
The catchphrase became globally viral after a Gen Z politician named Chlöe Swarbrick used the term to respond to her senior colleague on the 4th of November, 2019. This incident, of course, caused a global upsurge.
What's the inspiration for the OK boomer game?
The primary inspiration for the OK boomer game is to bridge the age gap between people of different generations and reduce the cold wars between the boomers and the new school people online and offline.
OK, boomer Game review
We'll be grading the OK boomer game based on four criteria:
Gameplay
The gameplay of the OK boomer game is quite impressive. The game's competitive nature provides team members with an excellent opportunity to display their excellent knowledge of different generations to prove which side is more woke.
Thrilling nature
We're rating the OK boomer a 10 for the thrills, fun, and overall creativity. This old and new school trivia game is the perfect way to bring every family member together.
Replay Value
The rating filter for OK boomer's replay value is 93%. This means there is a 93% possibility of a following round after the first one. The boomer trivia game is too fantastic to be played just once.
Ease of instructions
There are no complex instructions. The complete instructions of the game only state that members should be at least 18 years old. Good knowledge of the rival team's pop culture would be an added advantage and leverage for being chosen as part of the team.