Parties are for fun and what better way to have fun than to play games at a party with your friend? It is not only a great way to bond with your friends, but you can also make new friends.
But what makes parties great, food, party cookies, music, people?
Parties are not for just dance, here, you will see a comprehensive analysis of the best multiplayer games to play at a party. In the end, you will see the best among them, come along then.
Best Party Games
1. Mario kart 8 deluxe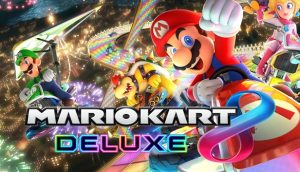 Need a highly competitive game with twists and turns, then look no further than Mario Kart. This racing game is highly competitive and quite fun to play. Available on Nintendo Switch, you have the choice to select the Nintendo character of your choice and also the car of your choice.
About to cross the finish line and Boom, your car is up in flames, your friend grinning sheepishly beside you. That frustrating feeling comes over you, well, we have all been there, just don't break the controller. But, no need to worry, you have another chance to go again.
Mario Kart is a crowd favorite that can get a party going. You can even organize a tournament and see who the best driver is among you. Up to eight players can play this game thus even allowing more room for fun and healthy rivalry.
2. Boom Again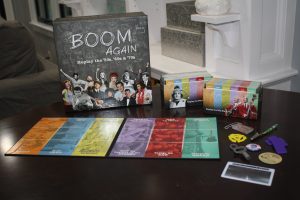 Talk about saving the best for last, Boom Again is a favorite board game at parties. This game is a great way to bring people together at parties
Designed for the baby boomer generation, but if you know your history, you can also play and enjoy this game. It is a trivia game with questions based on the events of the boomer era which consists of the fifties, sixties, and seventies.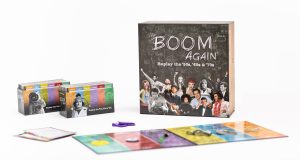 Boom Again can be played between several persons. Divide yourself into teams and get booming with Boom Again.
This game allows players to not only revisit the past and recollect sweet memories, but it is also a form of competition as to who is well versed in history
Boom Again does not need an Internet device before you can get playing. Except when you need to play with someone who is not physically present, you can use your phone for video calls and screen sharing so the person can partake virtually.
The Boom Again game package comprises:
two card boxes filled with 2,244 questions about the baby boom era,
boomer tokens which include: a metal skate key, "students for Kennedy" button, 45-RPM record insert, Vietnam Era dog tag, working roach clip, and a milk bottle capTrivia games like Boom Again are great for promoting friendship and healthy relationships. Game night is sure to be interesting with Boom Again.
How to Play Boom Again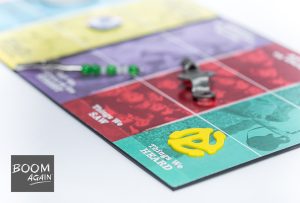 This game is a team game. Divide the party into two teams
Bring out the game tokens and place them on each center section of the game board. Boom Again has about five categories all based on the boomer era.
Choose a category of your choice, and someone from the opposing team reads you a question from the 2,244 questions about the baby boomer era.
Get the question right, then you are entitled to pull the token in that category closer to your team's side of the board. Get it wrong, then you get nothing.
After you answer the question correctly, the opposing team will have its turn. They will also pick a category of their choice. When they select the same category and also get the question right, then they will pull back the token to their own side. There is a back and forth until the token is completely pulled to a team's side.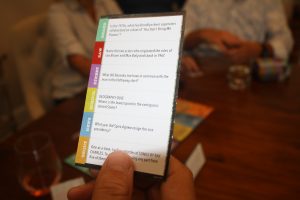 It is like a tug-of-war trying to pull the opposing team to your team's side except in this instance, you are trying to pull a token over to your side.
The first team that pulls three tokens to its side is declared the winner of the game. Available now on Boom Again or Amazon
3. Super Smash Bros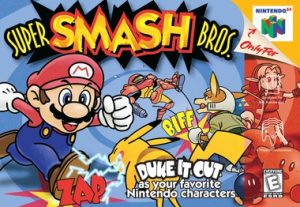 A blockbuster Super Mario game, Super Smash Bros is a good party game. It is a fighting game, however, it is a bit different from the usual fighting games.
To win this game, rather than beat your opponent till his life fully depletes, you just need to knock your opponents off the stage.
This Nintendo game is a party favorite, it is one of the best party games to keep a party lively. Available on Amazon, up to four players can play this game.
4. Super Mario Party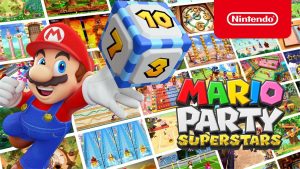 One of the best video games, Super Mario Party is a life-of-the-party game. Highly competitive and fun to play, Super Mario is a favorite of many.
The Super Mario Party Game is available on Amazon, it can be played by a single player or by multiple players up to 4 persons. It also has several interesting modes, with your Mario party superstars characters, you can get through these modes with ease.
You may decide to play individually or pair up with another partner to form a team and take on the other team. This game has a lot of mini-games, about eight of them.
Turn up the heat at your party with this game. Race across the board, secure power-ups, and bag the highest number of stars to win this game.
5. That's You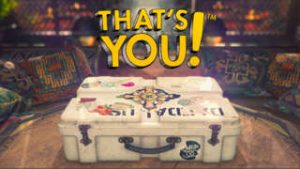 This is a fun and innovative game to be played among friends. It seeks to test knowledge among friends, and how well you know each other.
Who among your friends is the best dancer or who's that one person who's truly dependable? That's You is based on several topics about your knowledge of people.
Gather your friends around and pick a question, for instance, who is the best cook? Pick the friend that you think it is, you get points if the majority also agree that it is that person that you picked.
This game is a true test of knowledge and seeks to improve friendship. You are able to learn more about your friends by playing this game. It can be played between up to 6 players, it is a party favorite.
Buy That's You on Amazon
6. Knowledge is Power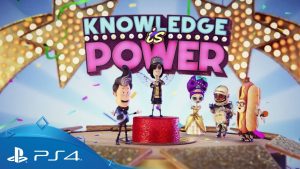 A game of wit, a game of intellects, a battle to show who is smarter. Knowledge of power is truly a game to show that you can best others when it comes to trivia.
However, do not think this game is only for nerds, this game also incorporates some fun. This game can be played by up to six players. You have to first select your avatar. Then you move on to selecting the categories you want the questions to be based upon.
You can select several categories, as many as you want, this ensures that at least each player is knowledgeable in a category. You would do well to select the categories you have high knowledge in.
Then the game begins, and the questions from the categories selected are scrambled and asked as multiple choice questions. Answer correctly within the time limit and you can do your opponents some damage.
You can freeze or throw slime on your opponents thus slowing them down. They have to clear their screen before they can continue to answer.
The game is time conscious so it is highly competitive and fun to play. This is a delightful game to play at parties, it is surely one of the great party games. It is available on Amazon and PS4.
7. Gang Beasts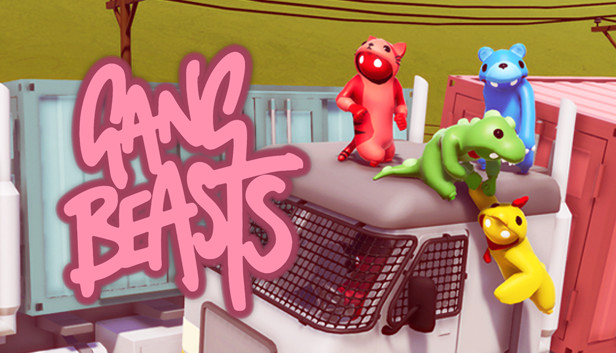 Talk about a full-blown fistfight, then Gang Beasts are the game. If you are all up for action games, then this game is the game to liven you up and get you in the mood.
Dressed in comic costumes, the characters in this game try to beat their opponents. Try not to laugh too much as this game features some very funny moves.
There are several stages to choose from. The location of the fight also adds to the fun, you might find yourself fighting on top of moving trucks.
You have to steady yourself so as not to fall, you also have to ensure your opponents do not have an upper hand over you. Don't be amazed when you find out the next location is on a Ferris wheel.
This game sure packs it all. When fun and competition between people are needed, Gang Beasts is your go-to at a party. It is available on Xbox, PS4, and PC and up to eight players can play this game.
7. Drawful 2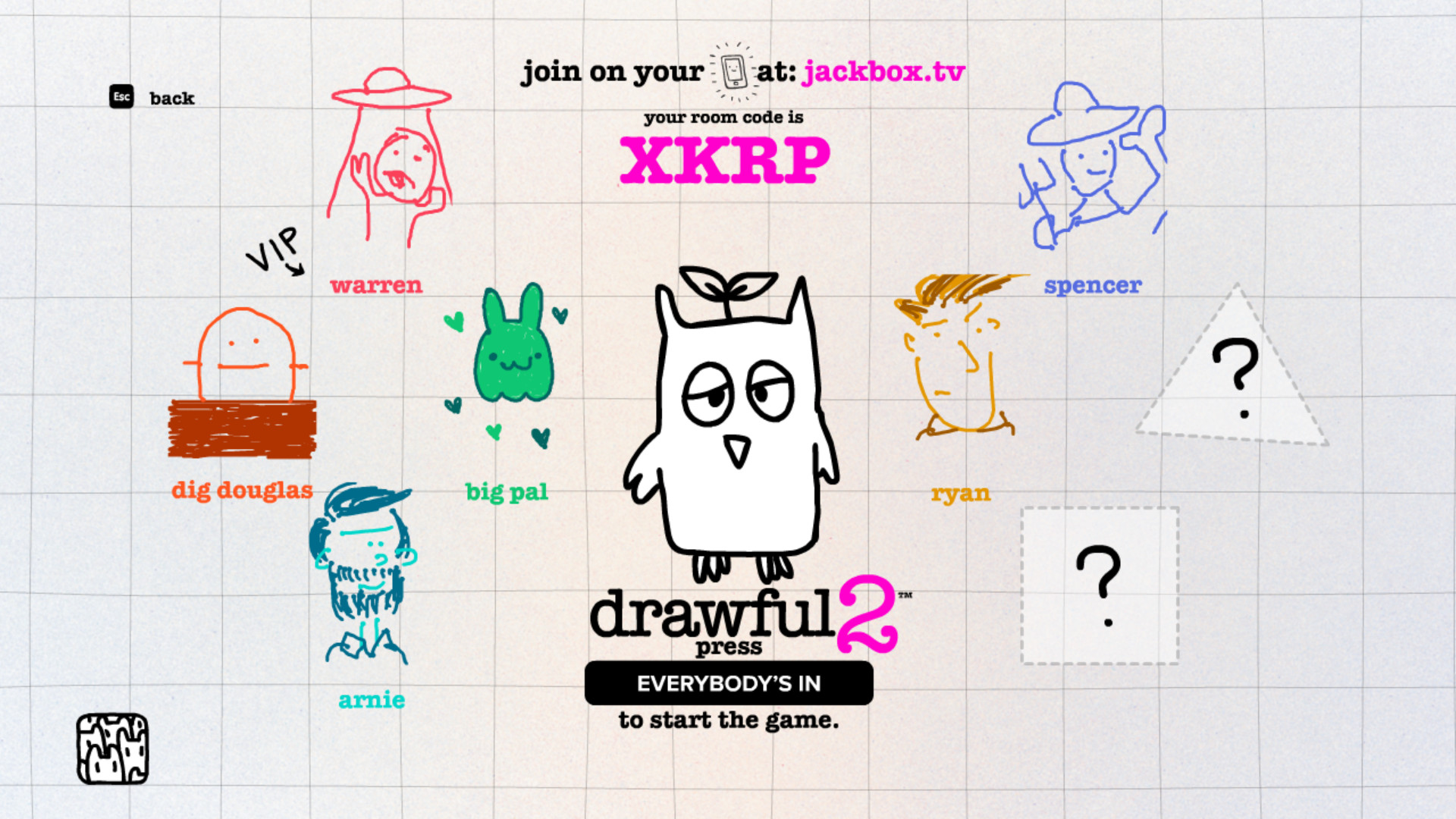 One of the jackbox games, Drawful 2 is a hilarious game. A maximum of eight people can play this game. Get your phone or tablet and launch the Drawful 2 app.
In this game, you are given the challenge to draw a particular thing. Then your friends have the hard job of trying to guess what you have just drawn.
The fun twist in this game is there is no room to correct what you have drawn. Any mistake made will just have to be a part of what you're drawing. Imagine the hilarious laughs with your friends trying to guess what you have just drawn.
This is one of the best jackbox games in that this game ensures fun and laughter
8. Rocket League
A game to get all the players in a heightened mood, a game that all players try their utmost best to win, look no further than Rocket League.
Ever seen fans of racing and football games, then, you'd know they are passionate about their respective games. But, what if, just want if, you combine the two? A football game where instead of players, you have to score with cars.
Quite innovative, isn't it? Well, that's Rocket League, score with a speeding car and lead your team to victory.
You can play against your friend in a head-to-head or pair up in twos and attempt to beat the other team. Up to four players can play this game.
There are also some new game modes that you will find interesting. A mini-game available in Rocket League is ice hockey. Rocket League is a real game to keep your party animated.
9, Jackbox Party Pack 6
From the stable of Jackbox games, Jackbox Party Pack 6 is one of the fun party games you can play online with multiple people.
The Jackbox Party Pack contains five mini-games each, this is sure to get a party up and running. A maximum of ten people can play this game so there is enough room to join.
The games contain trivia games that will test your wits and intellect. The Jackbox Party packs in a party setting are truly an invitation to a great party. It is available on PC, Xbox One, and other Xbox series, PS4, Nintendo Switch, iOS, and Android.
10. Party Golf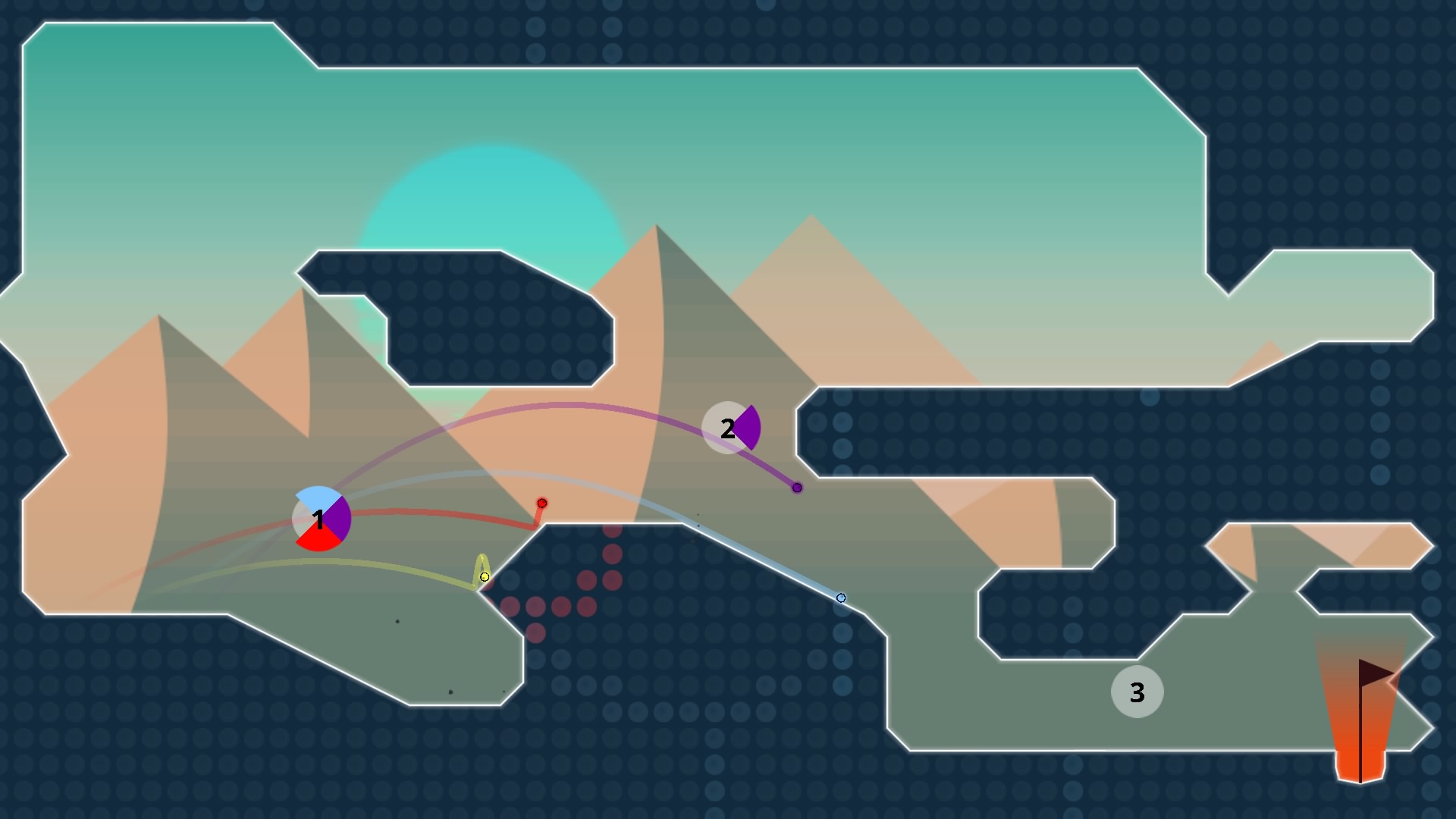 Think the conventional golf game is boring, well, not Party Golf. Party Golf brings a new dimension to how golf is played.
With crazy golf courses, you have to perfect your stroke so as to pot your shot. The golf course is set in several locations with different stages making it difficult for you to pot the shot.
Unlike the regular game of golf where you have to pot a round golf ball. In Party Golf, your ball could be anything, yeah, you read that right, anything, cubes, even bananas. And you gotta pot it.
Up to 8 persons can play this game at a time thus bringing a good level of competitiveness. Party Golf is available on Xbox one and other Xbox series, PC, PS4, and Nintendo Switch. This game is flexible in that it is suitable for all categories of people and highly enjoyable by all.
11. Keep Talking and Nobody Explodes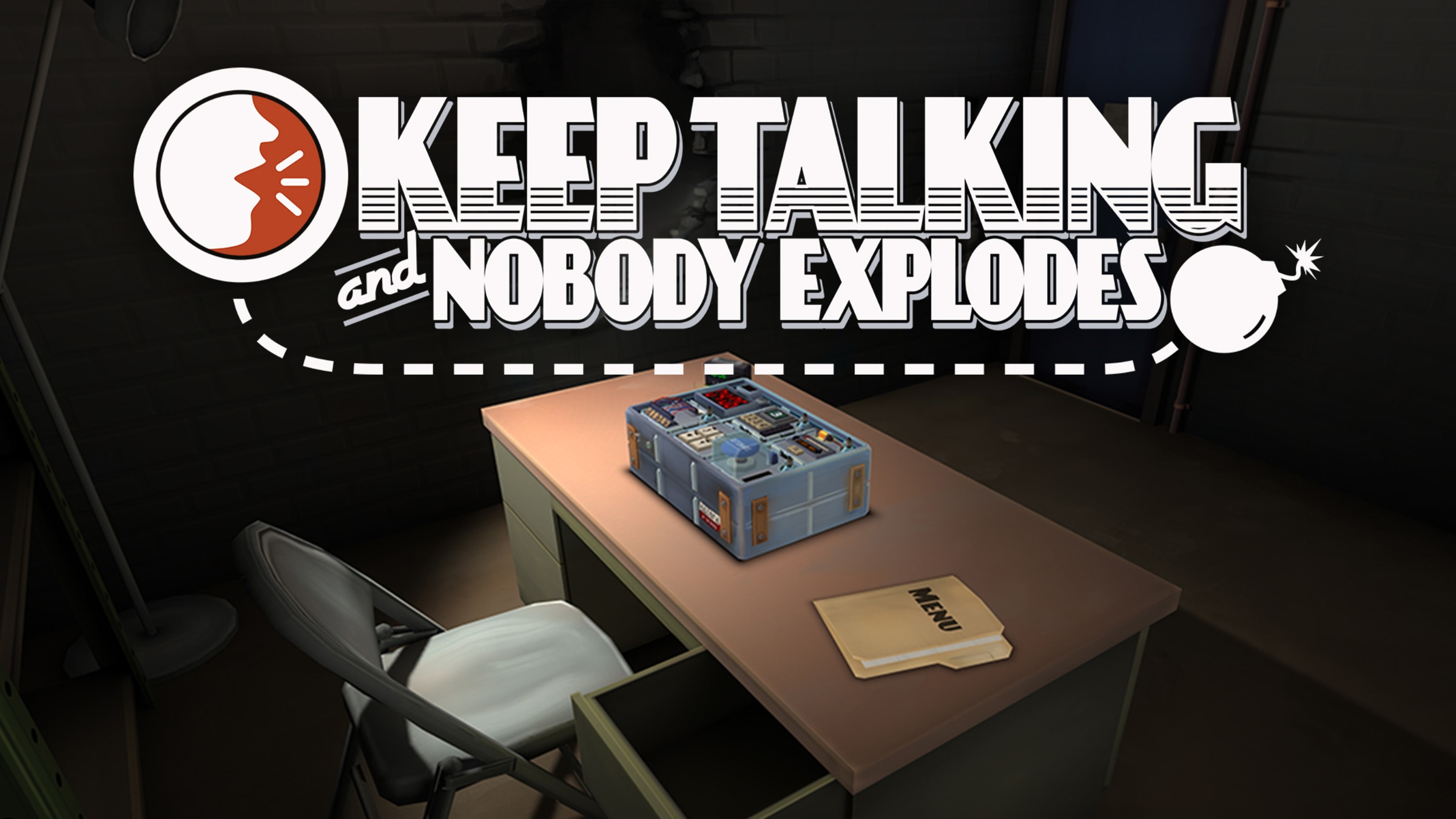 Ever been under the pressure of disarming a bomb, well, hopefully not, and never. How about a game where you have to disarm a bomb or else everyone explodes?
This is a pretty difficult game that requires teamwork for you to win. There is a bomb, one person must disarm it, however, the instructions to disarm the bomb can't be seen by the person disarming.
Thus, one person has to read the instructions while others disarm the bomb. The reader is also not allowed a view of the bomb while it is being disarmed. Pretty difficult right, well, your communication and teamwork is the only thing that can bring home the victory in this game.
The pressure is ramped up as the time is ticking down for the bomb to explode. Successfully disarm the bomb and celebrate a joint victory.
The higher the pressure, the greater the celebration. Keep Talking and Nobody Explodes is a great party game to keep everybody involved and excited. It is available on PC, PS4, Xbox One, and Nintendo Switch. Wanna heighten the pressure, then play this game in VR, it's an exciting experience.
12. Rock Band 4
What's a party without music, well, it's practically dead or boring. Rock Band 4 is a game that makes music the life of the party.
Essentially karaoke, however, the music here is Rock. Get your guitar and live band instrument, select the song of your choice, and rock and roll to it.
This game has a wide selection of rock music. I'm sure, you'd find more than a handful of your favorite music in it. This game is all participating, everyone at the party can join in such that no one is left out of the fun.
There is also a freestyle mode where even children can participate and also be a part of the fun. So what are you waiting for, get in the band and get playing Rock Band 4 one of the best party games you'll find.
Final Words
Games are surely a great way to spice up a party, get your local multiplayer or your browser and internet device or your console, and get playing with your friends.
Most of these games can be played with at least three friends while some can be played with as many as ten people. Some of these games are online multiplayer games such that everybody need not be physically present, for a proper virtual party.
Amidst them all, Boom Again stands tall, get your Boom again game today to have a fun and exciting party.